compare our cookware series
Find the one that best fits your preferred aesthetic, construction, and budget.
Outer
Finish
Cooking
Surface
# of
Layers
Handle
Design
Price

Brushed
304
(18/10)
5 Ply
Stay Cool Hollow Handle
Angular Design
Fry pans starting at $79.95
Sets starting at $329.95

Mirror Polish
316Ti
5 Ply
Stay Cool Hollow Handle
Rounded Design
Fry pans starting at $109.95
Sets starting at $479.95
crazy good quality without the crazy high markup
There are a lot of options out there for premium stainless clad cookware. We've worked really hard to combine quality materials, experienced craftsmanship, and affordable prices, all while paying good wages to the American workers who build the product.
We believe in transparency in manufacturing & marketing. If you're going to trust us to make the tools you cook with, the least we can do is provide clarity around how our products are made, the materials we use, and what your purchase helps support.
When you buy from us, the vast majority of your purchase goes to pay for the quality materials and experienced craftsmanship we put into the product. You're supporting a small family-owned business, not some massive corporation's bottom line.
where is
it made?
10pc set
price
10in fry
price
construction
manufactures their
own cookware?
ownership
HERITAGE STEEL


Eater

Series
USA
$650
$90
5 Ply
304 (18/10) Surface
Yes
Family-owned small business
Based in USA
HERITAGE STEEL


Titanium

Series
$900
$130
5 Ply
316Ti Surface
ALL-CLAD
D3
USA (?)
$700
$160
3 Ply
304 (18/10) Surface
Yes
Groupe SEB
French Conglomerate
ALL-CLAD
D5
$900
$180
5 Ply
304 (18/10) Surface
MADE IN
Italy
$750
$110
5 Ply
304 (18/10) Surface
No - Sources from
Meyer Manufacturing Co.
Venture-backed startup
Based in USA
HESTAN
ProBond
Italy
$900
$200
3 Ply
304 (18/10) Surface
Yes
Meyer Manufacturing Co.
Based in Hong Kong
HESTAN
NanoBond
$1,800
$320
3 Ply
NanoBond Surface
SARDEL
Italy
$695
$115
5 Ply
304 (18/10) Surface
No - Sources from
Nuova HSSC Srl
Venture-backed startup
Based in USA
DEMEYERE
Industry
Belgium
$1,000
$190
5 Ply
304 (18/10) Surface
Yes
Werhahn KG
German Conglomerate
MAUVIEL
M'Cook
France
$1,000
$175
5 Ply
304 (18/10) Surface
Yes
Family-owned
Based in France
Prices last updated October 2023, rounded to nearest $5. Did we get something wrong? Let us know!
Frequently Asked Questions
Yes! We use no chemical coatings of any kind, so our cookware is made without PFAS, PFOA, PTFE (Teflon), ceramic silanes, lead, cadmium, or any other crazy thing people are making cookware with these days.
No funny business here, just high quality cladded steel.
Yes! All of our cookware uses an outer layer of stainless steel that is magnetic, making it induction compatible.
Yes, our cookware is safe to use with metal utensils since we don't use any type of coating that can get scratched off. However that doesn't mean our pans are completely scratch-proof. When using metal utensils, be sure not to use anything that's especially sharp, and don't use a lot of pressure.
For everyday cooking, we recommend using wooden or silicone utensils. But for situations where metal utensils are especially useful, go ahead and use them!
We've been helping our customers maintain their cookware for over 40 years.
If any of your cookware doesn't look quite right straight out of the box, let us know! We will happily repair or replace your item at no cost to you.
If any part of your cookware ends up breaking or behaving in an unexpected way during normal cooking, just fill out a simple claim and we'll review it. As long as you're not doing anything crazy with your cookware, we'll repair or replace any pieces that have issues.
All of our cookware (including our lids) is made at our factory in Clarksville, TN. We source input materials from the US and abroad.
While we try to source from the US whenever we can, some of the specialty materials we use in our cookware aren't readily available to purchase in the US. We source our cladded steel from South Korea.
We'll always do our best to be open and transparent about our sourcing and manufacturing practices. If you have any questions, let us know!
Yes, our cookware does include nickel in its stainless steel cooking surface. Nickel is an important element in the alloy to help make the steel more corrosion resistant and durable.
For those who may be concerned about increasing dietary nickel as a result of using stainless steel cookware, there is very little need to worry. A recent study found that cooking with stainless steel results in "amounts released below known allergy-triggering thresholds". To best reduce dietary nickel, it's advisable to reduce intake of foods that are high in nickel.
Yes, our cookware does include aluminum in its core. These layers of aluminum are used to spread heat evenly and efficiently along the bottom and sides of our fully clad cookware. However, because these layers are fully sandwiched between protective layers of stainless steel, the food you're cooking will not be exposed to any aluminum.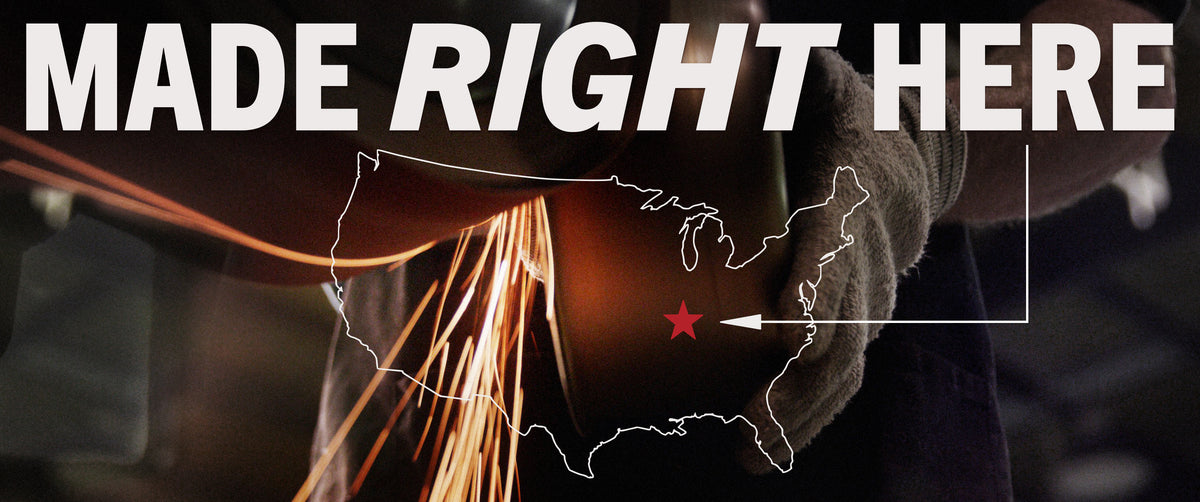 over 40 years of american manufacturing
Running a quality-obsessed factory here in the USA is
hard

.
Why have we kept at it?
---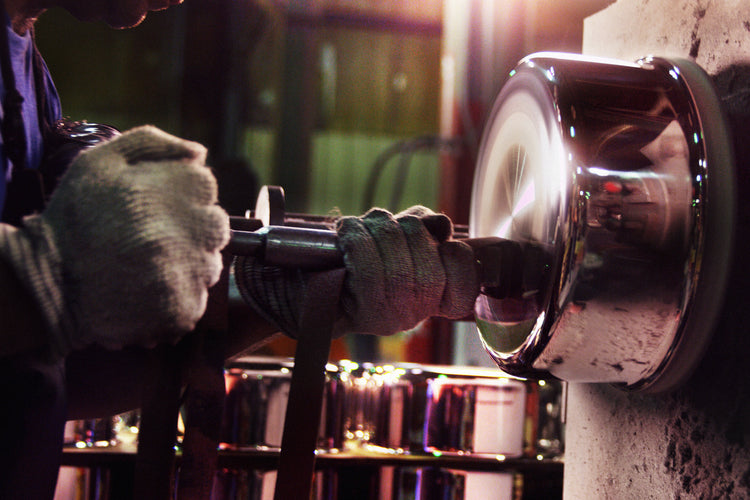 The
Product
By making these pans right here, we get full control over all the details and processes. If something isn't up to our standards, we can improve it. We're continually refining our manufacturing, ensuring that every pan is reliably high quality.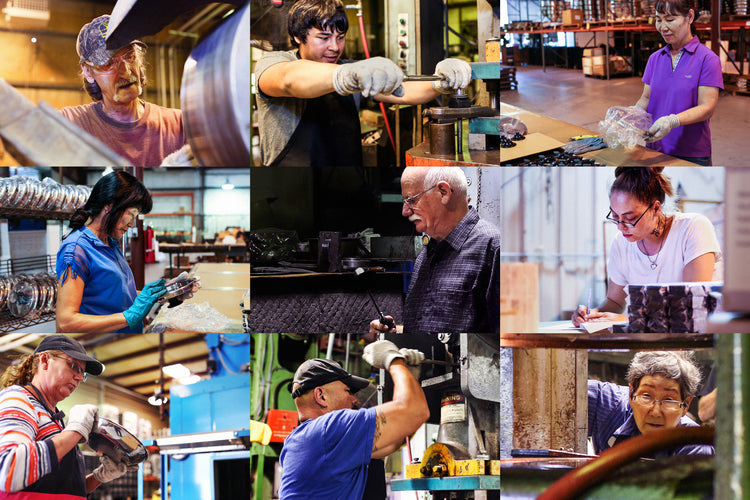 The
People
We're a small team, a good portion of which has worked here for decades. These colleagues are our friends and neighbors, and our factory relies on their expertise, knowledge, and hard work to keep producing great products year after year.
---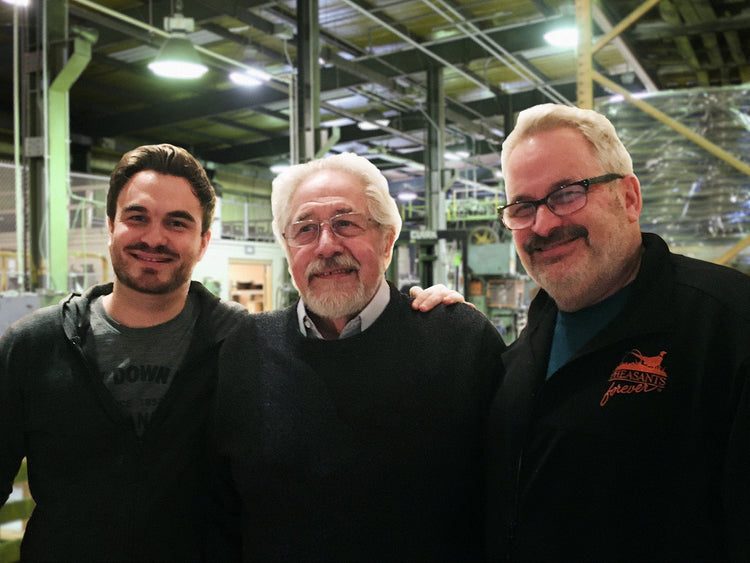 3 generations
family-owned & operated
Making and selling cookware has been the Henn family business for decades. While our product has evolved over the years, our mission has not:
Make a great product, sell it at a fair price, and pay good wages to the American workers who build it. Our aim is to craft tools that help people fall in love with cooking at home.