step 1
Start with the best ingredients
All of our cookware is made from 5 ply cladded materials, combining the even heating properties of aluminum with the strength and durability of stainless steel.
step 2
Prepare it with care
We rely on a great team of experienced craftsmen to build our world class cookware. Every detail and process have been considered thoughtfully and are executed with great care.
step 3
Stand behind the result
We're proud of the products we build, and we back them up with a lifetime warranty. To this day, we'll still take on repairs of products that my Grandpa sold 30 or more years ago.

MADE IN USA
At our factory in Clarksville, TN we've been making only the finest stainless clad cookware for over 40 years.

5 PLY FULLY CLAD
Our cookware combines the strength of stainless steel with the even and efficient heating of aluminum.

LIFETIME WARRANTY
We're still serving customers who bought our cookware over 30 years ago. It's really built to last!

MADE IN USA
At our factory in Clarksville, TN we've been making only the finest stainless clad cookware for over 40 years.

5 PLY FULLY CLAD
Our cookware combines the strength of stainless steel with the even and efficient heating of aluminum.

LIFETIME WARRANTY
We're still serving customers who bought our cookware over 30 years ago. It's really built to last!
real reviews from real cooks
thousands of 5-star reviews
★★★★★

Love this saute pan. The steel itself is amazing, the handle design the most comfortable and cool I've ever used. Heritage steel is the only stainless steel company I've bought from that makes cookware of a quality that is unquestionably satisfactory.

Judah T. |

Oct 22, 2023
★★★★★

Food Does Not Stick! I love this pan and just bought a 5-piece set after trying out the 12" Fry Pan. I followed the directions for pre-use and have been amazed that my food doesn't stick in a metal pan. I just gave away my current drawer full of pans.

Julie M. |

Oct 13, 2023
★★★★★

Wanted to give it time to use every piece in this set and cook a variety of dishes before leaving a review. Well, this cookware is amazing and worth the investment in my opinion! I've cook fish, oatmeal, soup, veggies, eggs, pasta, and more. The cooking quality is even and responsive.

Jeffrey P. |

Nov 9, 2023
★★★★★

This is my first Heritage pan. I own the "other" clad brand, and this is by far my favorite pan i own! So far flawless performance and great feel in the hand. Looking forward to buying more pieces.

Leland D. |

Nov 7, 2023
★★★★★

Family company. American made. Great quality pan that's fun to cook with. Good price. Instructions come with it. Read them. It helps. Great customer service.

William H. |

Nov 6, 2023
★★★★★

Fantastic purchase! What a treat to to use this high quality pan. Tossed my non-stick pan after using this one.

Robert C. |

Nov 3, 2023
find your new favorite cookware
most popular
start with a fry pan
Your new Heritage Steel fry pan may never leave your stove top! From fried eggs in the morning to sautéed veggies for dinner, you'll always have a use for this indispensable kitchen companion.
Starting from
$79.95


+

free

shipping
shop fry pans
★★★★★
"Worked professionally in a kitchen. Perfect pan. Wouldn't change a thing."

Clay M.    |   ✓ Verified Buyer
BEST VALUE
INVEST IN A SET
We firmly believe that quality stainless steel cookware should be the foundation of every home kitchen. Whether you're looking for just the basics or a full kitchen makeover, we've got a set for you.
Starting from
$329.95


+

free

shipping
SHOP SETS
★★★★★
"The most excellent purchase! My main intention to buy this set was for health reasons... but there is so much, much more! These pots and pans are so easy to clean, a big plus in my book. And, yes, the food actually tastes better!"

Karen Y.    |   ✓ Verified Buyer
MORE VARIETY
EXPLORE OUR SELECTION
We offer a wide variety of pots and pans, including specialty items such as woks, paella pans, rondeaus, and more! No matter the cooking project you've got in mind, we've got something to help you out.
SHOP ALL COOKWARE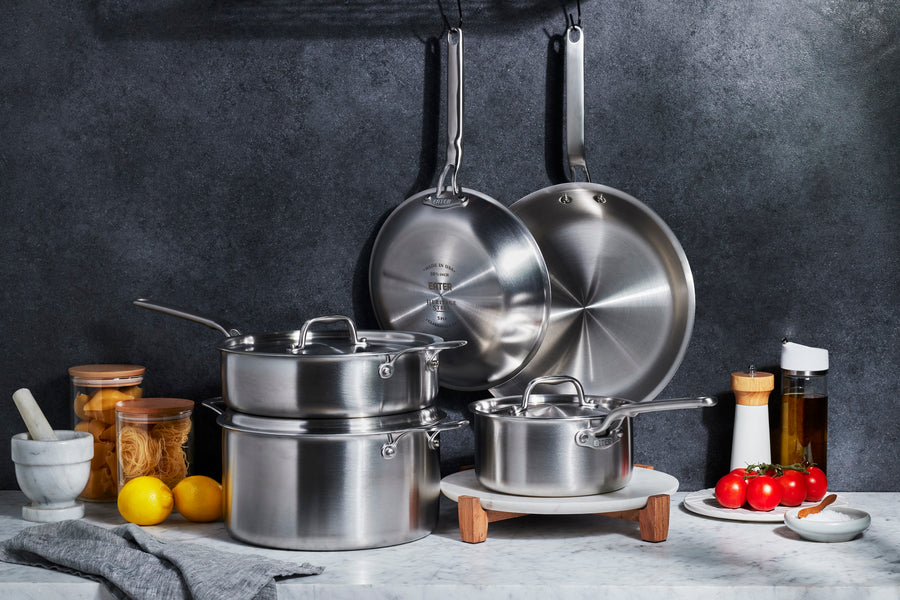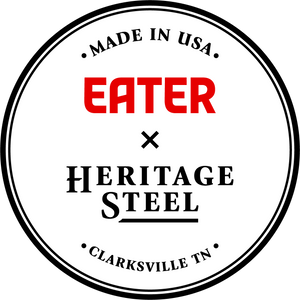 Nobody knows food like Eater, and nobody knows cookware like Heritage Steel.
Eater is renowned for finding the good stuff. Whether it's an undiscovered gem of a restaurant in your city or your new favorite recipe, Eater has a keen eye for quality.
Now Eater is bringing those trusted recommendations into your kitchen, starting with a professional-grade line of stainless clad cookware — made by us! Combining our manufacturing expertise with Eater's culinary knowledge, this cookware is built to perform reliably for a lifetime of adventurous cooking.
Frequently Asked Questions
Yes! We use no chemical coatings of any kind, so our cookware is made without PFAS, PFOA, PTFE (Teflon), ceramic silanes, lead, cadmium, or any other crazy thing people are making cookware with these days.
No funny business here, just high quality cladded steel.
Yes! All of our cookware uses an outer layer of stainless steel that is magnetic, making it induction compatible.
Yes - we don't use any coatings on our cookware so there's nothing to scratch off!
We've been helping our customers maintain their cookware for over 40 years.
If any of your cookware doesn't look quite right straight out of the box, let us know! We will happily repair or replace your item at no cost to you.
If any part of your cookware ends up breaking or behaving in an unexpected way during normal cooking, just fill out a simple claim and we'll review it. As long as you're not doing anything crazy with your cookware, we'll repair or replace any pieces that have issues.
All of our cookware (including our lids) is made at our factory in Clarksville, TN. We source input materials from the US and abroad.
While we try to source from the US whenever we can, some of the specialty materials we use in our cookware aren't readily available to purchase in the US. We source our cladded steel from South Korea.
We'll always do our best to be open and transparent about our sourcing and manufacturing practices. If you have any questions, let us know!
Yes, our cookware does include nickel in its stainless steel cooking surface. Nickel is an important element in the alloy to help make the steel more corrosion resistant and durable.
For those who may be concerned about increasing dietary nickel as a result of using stainless steel cookware, there is very little need to worry. A recent study found that cooking with stainless steel results in "amounts released below known allergy-triggering thresholds". To best reduce dietary nickel, it's advisable to reduce intake of foods that are high in nickel.
Yes, our cookware does include aluminum in its core. These layers of aluminum are used to spread heat evenly and efficiently along the bottom and sides of our fully clad cookware. However, because these layers are fully sandwiched between protective layers of stainless steel, the food you're cooking will not be exposed to any aluminum.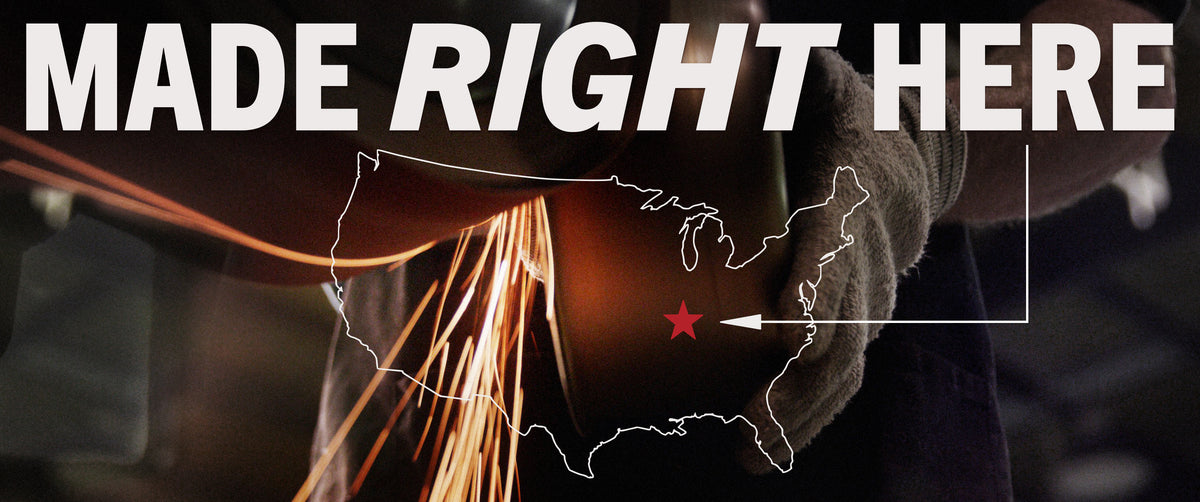 over 40 years of american manufacturing
Running a quality-obsessed factory here in the USA is
hard

.
Why have we kept at it?
---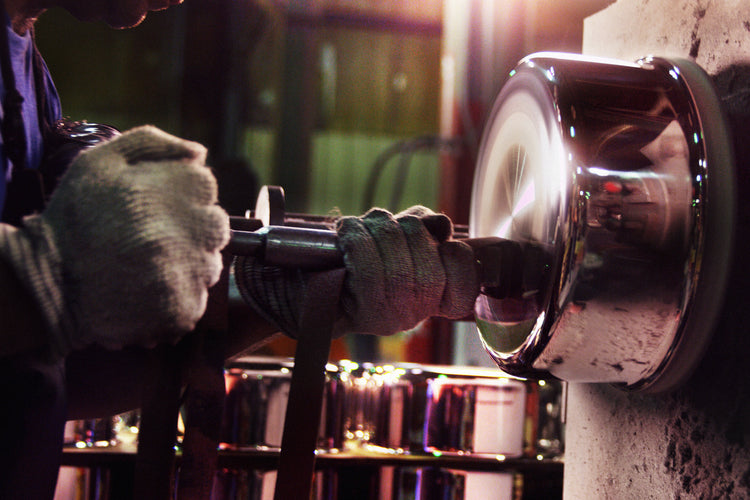 The
Product
By making these pans right here, we get full control over all the details and processes. If something isn't up to our standards, we can improve it. We're continually refining our manufacturing, ensuring that every pan is reliably high quality.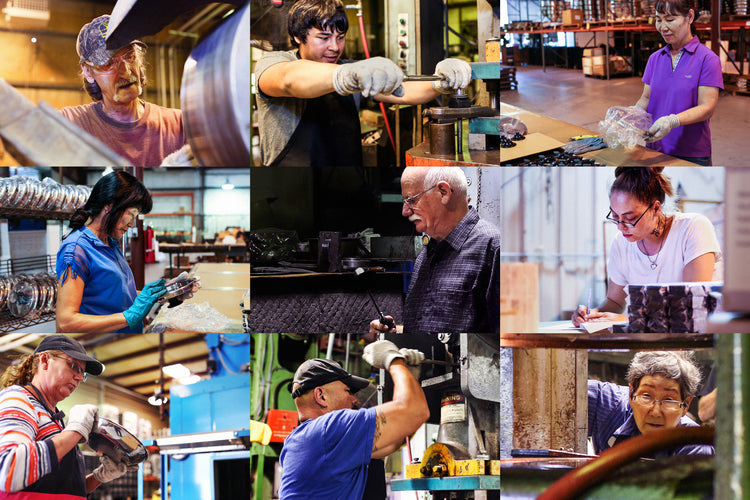 The
People
We're a small team, a good portion of which has worked here for decades. These colleagues are our friends and neighbors, and our factory relies on their expertise, knowledge, and hard work to keep producing great products year after year.
---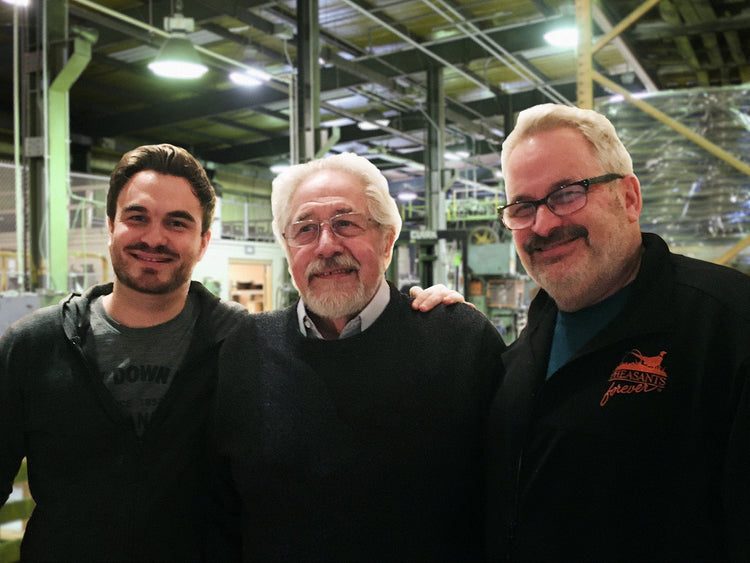 3 generations
family-owned & operated
Making and selling cookware has been the Henn family business for decades. While our product has evolved over the years, our mission has not:
Make a great product, sell it at a fair price, and pay good wages to the American workers who build it. Our aim is to craft tools that help people fall in love with cooking at home.


Built to Last
designed for performance & durability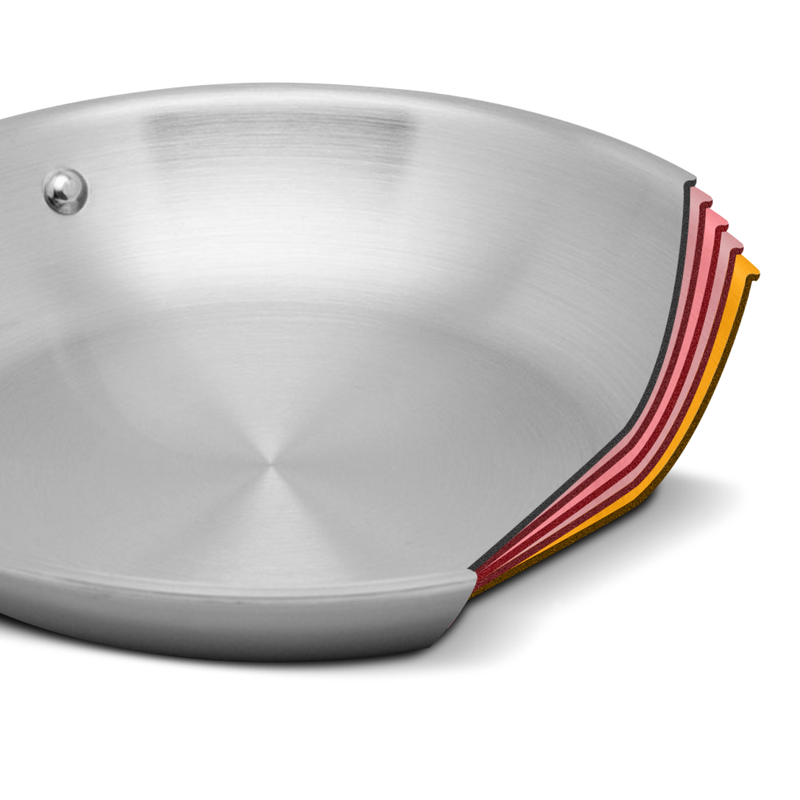 5 ply construction
Made from 304 stainless steel (also known as 18/10), this alloy creates a stable, durable, and fully non-toxic cooking surface.
Fully sandwiched between layers of stainless steel, the 3 layer aluminum core evenly & efficiently spreads heat throughout the pan.
Made from 400 series stainless steel, this layer has a higher iron content to increase its magnetic properties and make the pan induction-ready.
fully clad
Unlike less reliable forms of stainless steel cookware, our 5-ply construction extends throughout the entire body of the cookware rather than just the bottom. That is, it has fully clad construction rather than just a slab bottom.
For fry pans and skillets, this means that both the sides and bottom are evenly heated and can be used for cooking. For saucepans and stock pots, the result is faster heating and all-sides cooking.