MADE IN USA
At our factory in Clarksville, TN we've been making the finest stainless steel cookware for over 40 years.
TITANIUM STRENGTHENED
We use a specialty titanium-strengthened stainless steel known as 316Ti, adding durability and performance.
LIFETIME WARRANTY
We're still serving customers who bought our cookware over 30 years ago. If you have any issues, let us know!
Frequently Asked Questions
The titanium-strengthened steel alloy we use protects against metal leaching and is built to be stable, consistent, and durable.
Unlike non-stick or ceramic coatings, it won't chip away or wear out over time, and it's much better at resisting corrosion and pitting than the more commonly used grade of stainless steel (known as 304 or 18/10).
Yes! All of our cookware uses an outer layer of stainless steel that is magnetic, making it induction compatible.
Yes - we don't use any coatings on our cookware so there's nothing to scratch off!
We've been helping our customers maintain their cookware for over 40 years.
If any of your cookware doesn't look quite right straight out of the box, let us know! We will happily repair or replace your item at no cost to you.
If any part of your cookware ends up breaking or behaving in an unexpected way during normal cooking, just fill out a simple claim and we'll review it. As long as you're not doing anything crazy with your cookware, we'll replace any pieces that have defects.
All of our cookware (including lids) is made at our factory in Clarksville, TN. We source input materials from the US and abroad.
Yes, our cookware does include nickel in its stainless steel layer. Nickel is an important element in the alloy to help make the steel more corrosion resistant.
For those who may be concerned about increasing dietary nickel as a result of using stainless steel cookware, there is very little need to worry. A recent study found that cooking with stainless steel results in "amounts released below known allergy-triggering thresholds". To best reduce dietary nickel, it's advisable to reduce intake of foods that are high in nickel.
Yes, our cookware does include aluminum in its inner layers. These layers of aluminum are used to spread heat evenly and efficiently along the bottom and sides of our fully clad cookware. However, because these layers are fully sandwiched between protective layers of stainless steel, the food you're cooking will not be exposed to any aluminum.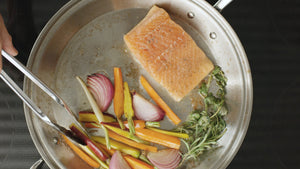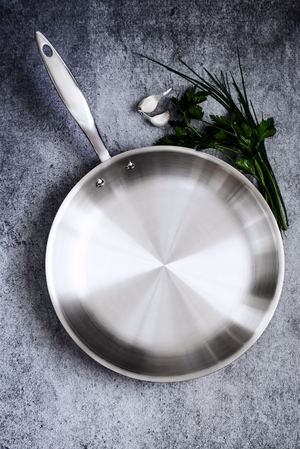 an unbeatable
cooking surface
Premium 316Ti is 20 times more resistant to salt corrosion than the competition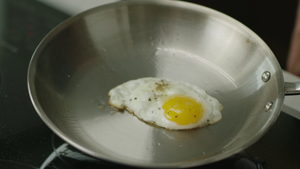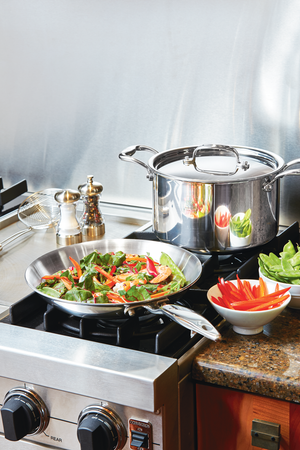 cooks evenly,
cleans easily
Three aluminum layers for even & efficient heating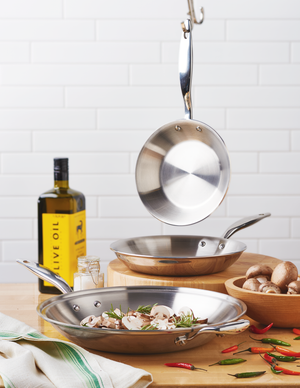 Stay-cool handles and easy-pour rims for ease of use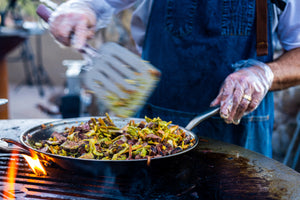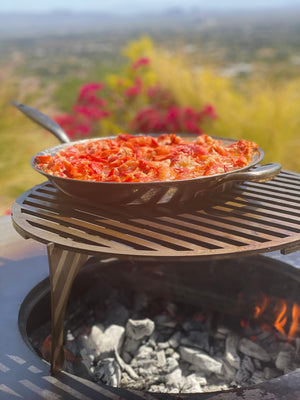 Use on any type of stovetop, including on the grill
A history of excellence
Donald Henn has dedicated his life to building and selling only the finest stainless steel cookware. Heritage Steel is the culmination of that history and experience.
american craftsmanship
We're a family-owned, small-scale factory that prizes quality over quantity. We take pride in everything we make, ensuring it will last a lifetime.
solid 5 ply construction
Our fully clad construction optimizes for even heating, versatility, and durability.
★★★★★

The old adage 'you get what you pay for' is true. Great looking and nicely balanced.

Road K.
★★★★★

The fact they're made in the USA, with a very high standard in quality control was attractive. A couple other deciding factors was the rims with the curled tops make it way easier to pour contents without spilling, the cool grip handles are amazingly cool even after an hour of boiling.

Adam F.
★★★★★

I was trying to purge my house of Teflon... The pot is really well made and I love that it has titanium in the stainless.

Alison S.
★★★★★

No sticking and cleanup is fast and easy. I will be replacing other pots with Heritage steel. It is also a work of art! Could not be more pleased.

Diane C.
★★★★★

I love this pan! More so than the All-Clad I bought for comparison. Over the years I've bought several knives and frying pans for myself or my children from Heritage Steel. We've all been very happy.

Shirley L.
the titanium difference
Our unique 316Ti surface protects against metal leaching and pitting.
It's the safest and most durable steel cooking surface available.
learn more
solid construction
Our cookware is fully clad with three layers of aluminum for superior heat conductivity and two layers of stainless steel for strength, durability, and induction readiness.
learn more